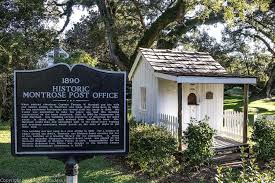 About
Montrose is an unincorporated community in Baldwin County, Alabama. This area is part of Fairhope, Alabama and is more of a historic district. Montrose, Alabama is close to many cities while also having a small-town feel. Visit local sites and the surrounding areas to get a better knowledge of Montrose!
Shopping
The area of Montrose is surrounded by business buildings; however, it is extremely close to downtown Daphne and Fairhope. These two cities are the closet shopping areas to this community.
Restaurants
Montrose is centrally located along the Eastern Shore where there are plenty of restaurant options during your stay.
Hotel Options
Are you planning to stay in this area? The closest hotels are located in Fairhope and Daphne, Alabama. Plan your trip online today!
Year-Round Activities
If you find yourself wanting to plan a trip to this area, try to plan around an event! Activities are constantly being held year-round in this area and everyone from the area comes out to support local businesses and holidays. New Year's, Mardi Gras, festivals and the lighting of the trees are just some of the events that locals look forward to every year!
Hospitals
Montrose Historic District is located near Thomas Hospital in Fairhope, Alabama. This is the main hospital along the Eastern Shore and there are several urgent cares in the area.
Parks
Montrose Historic District has one main park that you can visit that shows the history of this area. Tolstoy Park is the home of several historic landmarks and is open to the public!
Tolstoy Park
22787 US-98
Fairhope, AL 36532
Average Temperatures
Hottest Month: July
Highest Temperature: 91 Degrees
Coldest Month: January
Average Coldest Temperature: 39 Degrees